We are supported by our audience. When you purchase through links on our site, we may earn an affiliate commission. Thank you!
You would think feeding your dog would be straightforward and easy. But then you start asking how much should you feed your dog, what's the best brand of food, can I trust the dog food… and the list goes on. And even if you research all these things, there's still room for error or unknowns. This is where a service like PetPlate comes in. But should you use them?
What is PetPlate…
PetPlate is a dog food service that provides high-quality human-grade food made with whole food ingredients.
In other words, it's real food for dogs.
PetPlate's mission statement on their site is this: Make better food for dogs so they can live longer, healthier, happier lives with their families.
They have now delivered over 15 million meals and treats to dogs across the USA.
In essence PetPlate is this…
Fresh, home-delivered, human-grade food that gives your dog a healthier diet that improves their long-term health and wellbeing.
Sounds good right?
But is it any better than the other choices out there?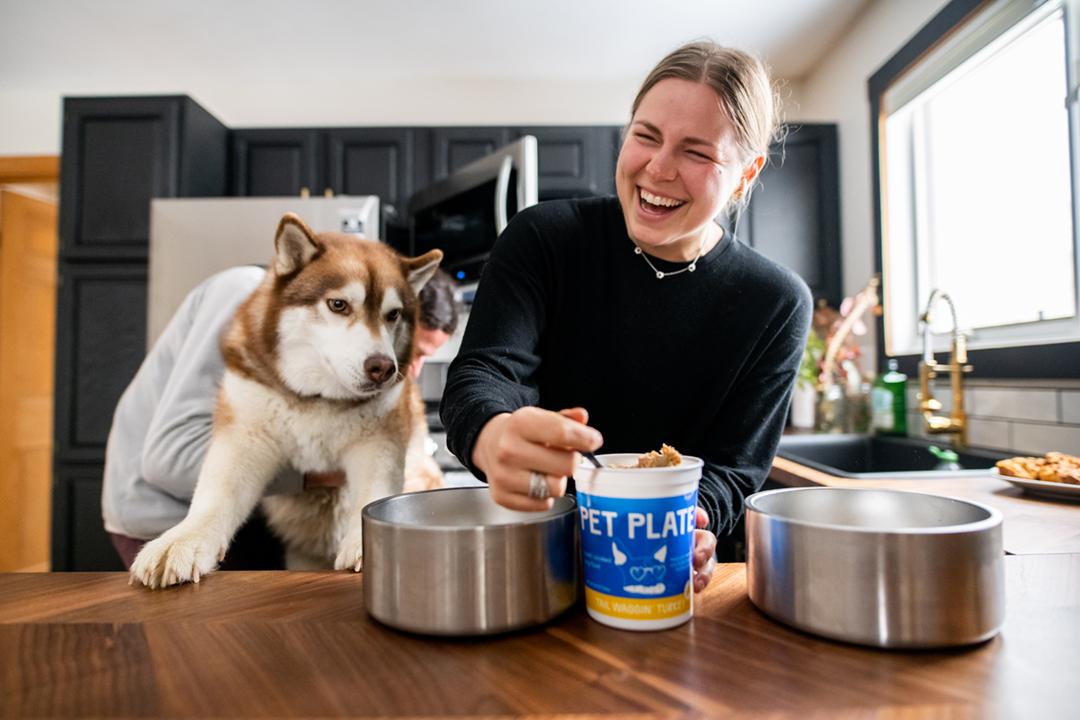 Why not use kibble and wet food?
In truth, the dog food industry has come a long way and there are some great brands out there.
But that doesn't mean there still aren't some concerns.
One study on the Science Dog reported that mercury levels in dog food could be a problem.
For one, there is no mandatory requirements for dog food companies to test the mercury levels in their food. This includes their fish ingredient foods.
Some foods tested were so high in mercury that if it was the dog's only diet, they would consume mercury in excess of daily human EPA limits.
In another test on dog food, scientists found that 27% of the tested food inaccurately represented their protein levels.
But there are other concerns as well.
Kibble is the predominant food type of choice for dog owners. But this type of food is often highly processed.
Flavor enhances and synthetic nutrients are still being added to kibble recipes today.
In Dogs Naturally Magazine an article explained that carcinogens in commercial dog food can cause cancer in dogs.
Aflatoxins is a toxin that comes from a species of fungus. This fungus is a type of mold and is a high-risk cancer-causing ingredient found in dog foods.
This is because many commercial dog foods contain grains like corn, wheat, and rice.
Poor growing conditions or storage issues can create this mold very quickly. This mold can even occur in your dog food storage box at home.
The cooking process of dog food does not kill or get rid of this mold. The toxin is very stable and high temperatures do nothing to stop aflatoxins from becoming a cause of cancer in your dog.
In other words, when it comes to commercial dog food, it's difficult to truly know what dangers are lurking within.
And we haven't even touched on the issues of kibble and a lack of moisture causing dogs to live in states of continuing dehydration.
So how does PetPlate work…
PetPlate has four meal packages to choose from packed with all the vitamins and minerals your dog needs to live a long and healthy life.
You choose your dog's meal plan before they cook them up in an USDA kitchen.
Each recipe is cooked in small batches to ensure nutrients are locked in. Then the meals are flash frozen and shipped directly to your door.
You also will choose how often you will get your meals and which size plan you'd like.
When you receive your delivery from PetPlate you will place a week's worth of meals into your fridge and the remainder will go into your freezer.
Meals can be served cold or warmed from the microwave.
And it's such high quality you can try it yourself if you like! But remember, it's still dog food!
Feeding the right amount
One huge benefit of using PetPlate is that you will be feeding your dog (or growing puppy) the right amount every time.
A health concern with dogs that eat commercial dog food is they're often not given the correct amount. Puppies can have their growth stunted, or dogs can be overweight or underweight (and owners might not even know it).
When you first sign up, you will be asked some questions about your dog so their nutritional needs are met.
So when your dog's meals come, you won't be left doing math from numbers on the side of the packet.
Your dog will not only get the correct high-quality nutrients they need, but they will get the right amount of them, too!
The real advantage in using PetPlate is that you can rest easy knowing that you're feeding your dog quality food that will give them the health they deserve.
If you have more than one dog you will create individual diet plans.
You will then choose what flavor you think your dog would like. You can choose from Chicken, Beef, Lamb, or Turkey.
You can start by choosing all four and then changing it up when you learn what your dog likes best.
After choosing your plan you can add treats, too!
They also offer 100% money back guarantee, which is great.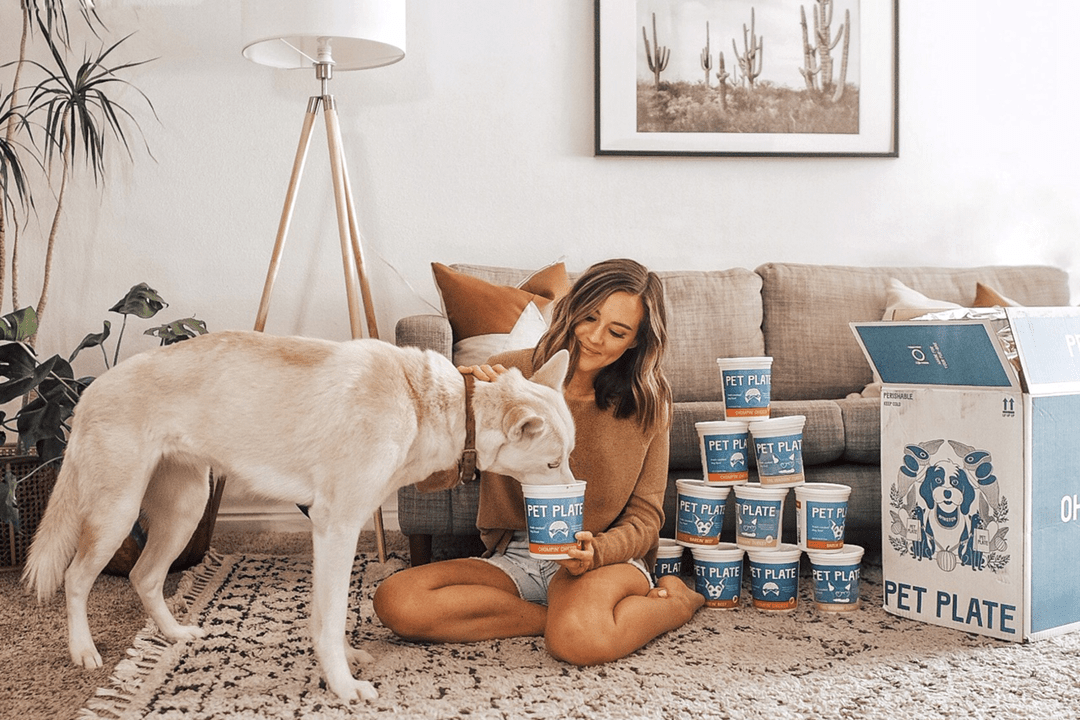 How much does it cost?
Prices range depending on the size and age of your dog.
Full plans start at $2.83 a day, which is quite reasonable if you take out the cost of your commercial dog food that you won't have to buy anymore.
Customer reviews
PetPlate has a high customer review rating. Here are some of their reviews, but you can find more on their site:
---
Karen W.
Verified Buyer
5.0 star rating
07/30/22
My dog loves pet plate turkey and beef recipes. His food comes frozen in a well insulated box with at least 2 dry ice to keep it frozen. I would ask that there should be at least 3 dry ice in the box of 21 containers of food and 3 treat bags. Happy customers here. Thank you Pet Plate!
---
Tracy E.
Verified Buyer
5.0 star rating
07/25/22
Customer service was fantastic when I needed to order more food for my dog!!
My dog loves this food!!!
---
Jenna
Verified Reviewer
5.0 star rating
07/22/22
My dog was the pickiest eater. We tried another type of fresh food and she got very sick (found out she had allergies). With Pet Plate we finally were able to find a food she loves and it didn't make her sick! Meal times are so much easier for me now, and my baby girl is so happy to finally enjoy her food and be excited for meal time too!
---
Stefanie
Verified Reviewer
5.0 star rating
06/14/22
My 10-year-old dog, Bear, was diagnosed with Cancer and given 3-6 months to live. I coincidentally stumbled upon PetPlate days before, and immediately made the switch to Bear's diet. Bear lived for 13 months and I will never be convinced otherwise that PetPlate was one of the reasons why. Prior to that, Bear wasn't too interested in his food and wouldn't always finish eating. From the first time Bear ate PetPlate, he was SO excited and ran to his bowl at every meal! PetPlate – thank you for giving me more time with my Bear. I am eternally grateful. ❤
So, should you get PetPlate?
We say yes, absolutely! The cost will be a little higher than store-bought food, but the peace of mind knowing your dog is getting quality ingredients is well worth it.
In the long run, it might not only give you more years with your dog, but it could even save you on costly vet bills if the worst happens.
A cancer treatment regime in a dog can cost owners up to $10,000!
Not to mention if your dog is getting the right quality of food every day, and of high nutrient value, they are going to be healthier. Their skin will be healthier, their fur will be healthier, and they will likely be happier.
It's also great for dogs with allergies, too! And it's all made in the USA, which can't be said for all dog foods.
If your dog doesn't like the food, you can get always your money back through their guarantee, so it's no risk to owners.
At the very least, it's worth trying for your dog and seeing how easy it is and if it's a right fit for you.